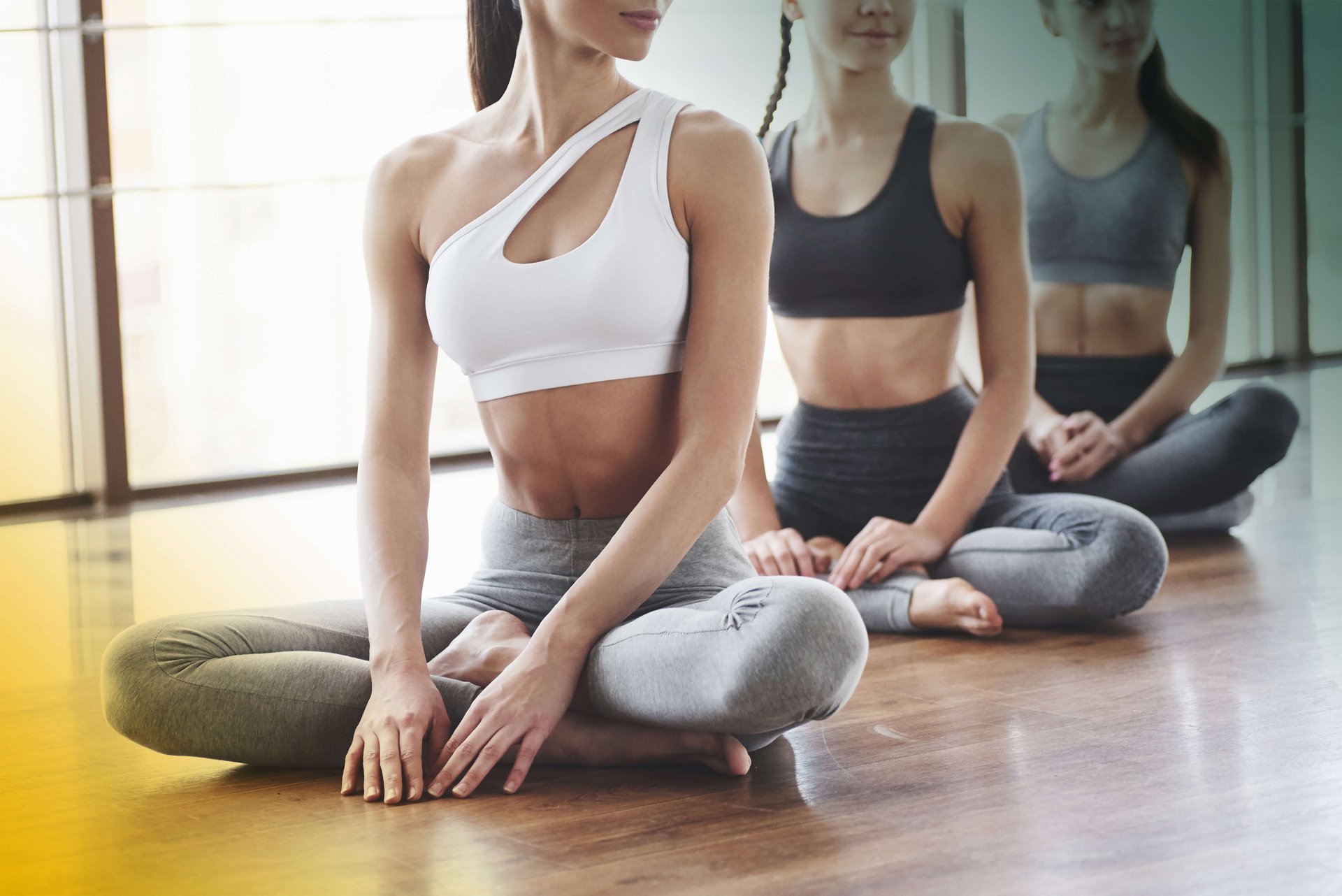 Yoga
Yog types &
Course offer
When your life is racing at full speed, so is your mind. Restorative yoga helps to restore physical and mental balance to prevent or even alleviate stress, anxiety, sleep disorders, etc.
By using aids such as pillows, blankets, blocks, etc., it is much more relaxing to hold the poses for longer, giving you all the benefits of a deep, passive stretch.
However, Restorative Yoga is not stretching in that sense and there is no end goal, like being able to touch your toes.
Rebecca invites you in her Restorative Online Class to explore what happens when you release the tension your body usually holds. Restorative Yoga for a better Sleep :)
The teacher can support you immediately with specific adjustments. This enables correct alignment in every asana (posture). The student's body awareness and coordination improve quickly, physical complaints are quickly alleviated and even permanently solved. Personal training is especially recommended for beginners at the start or after a few lessons in order to be in the ideal alignment from the beginning.
Many choose personal training continuously because of the individual, tailor-made support.
We recommend personal training for your individual, flexible and holistic health management.
You get one-to-one training with individual support & corrections
more motivation through varied, tailor-made training units
individual @home programme, if desired
functional spinal gymnastics to compensate for health problems
preventive/rehabilitative conditioning programmes
training programmes for health restrictions
programmes for breathing techniques and meditation
compensatory programmes to relieve stress at the workplace
Weight reduction, figure training, nutrition counselling
Sport-specific build-up and compensation training, for example for marathon runners, golfers, surfers, riders and dancers
Stretching and relaxation techniques
Mental and relaxation training
Whether individual exercises, entire learning units or long-term training, we plan your yoga for you and bring you to your goals.
You coordinate your appointments with the respective teacher. Would you rather train in the morning before work, during your lunch break or in the evening after work?
You are sure to find the right time to integrate yoga into your day.
You can reach us at Tel: 0211-30035678 or write us an email at info@karmakarma.de.
Prices
| | |
| --- | --- |
| Personal Training 60 minutes (1 Person) | |
| 1 Hour | 110 € |
| 5 Card | 520 € |
| 10 Card | 1000 € |
| Extra accessories and travel for private lessons at home | 10 € |
| The validity of PT cards is limited to 1 year. | |
| Yoga for groups and companies | auf Anfrage |
Personal training sessions must be cancelled 24 hours in advance, otherwise we will have to charge the full price.
Our specialities for corporate yoga are:
Stress and burnout prevention
Time and break management
Office breaks, small helpers with a big effect
Strengthening the back muscles, exercises for flexibility and switching off
Relaxation exercises and meditation for sceptics
Singletasking instead of multitasking
Coaching on nutrition and acid-base balance
All courses and coaching units can be booked in German and English
Your contact: Riccarda Kolb
You can call us Tel: 0211-30035678 or write an email to info@karmakarma.de.
The 26+2 sequence is a series of 26 postures and two breathing exercises that are performed in a specific order. The postures are designed to work on every part of the body, including the muscles, joints, and internal organs, and to promote strength, flexibility, and balance.
The first half of the sequence consists of standing postures, including standing deep breathing, half-moon pose, and eagle pose. These postures help to warm up the body and build strength and flexibility in the legs, hips, and spine.
The second half of the sequence consists of floor postures, including spine strengthening series, cobra pose, and rabbit pose. These postures focus on stretching and strengthening the spine and promoting healthy digestion and elimination.
The two breathing exercises, which are performed at the beginning and end of the sequence, are designed to increase lung capacity and oxygenate the body.
The 26+2 sequence is often practiced in a heated room, practicing the 26+2 yoga sequence in a normal temperature can offer several benefits. Firstly, it can make the practice more accessible and comfortable for individuals who may find the heat challenging or uncomfortable.
Practicing in a cooler room can also help to regulate body temperature, allowing practitioners to focus on their breath and movements without the distraction of excessive heat.
Finally, practicing in a normal temperature can help practitioners to build endurance and stamina, as they are not relying on external heat to provide energy or support.
Light Yoga helps us on our way to liberation, healing, and self-awareness and is an awareness that leads to an expansion in the body, a deepening of the soul ANL, and elevation to spirituality based on the light consciousness philosophy of David Wared.
But our experience has shown that you feel even more powerful and courageous in yoga's headstand positions and arm balances if you additionally strengthen your middle and push your endurance at least once a week. We do exercises combining fitness and Pilates, then conclude the hour with gently stretching yoga exercises. Not only athletes need endurance, we all do to get through the day that so often robs us of our energy. And best of all: your mood improves with the power of your body. So every hour is a wonderful mixture for mind and body. We look forward to working with you!
Spiritual Warrior is a powerful, but abbreviated Jivamukti Yoga session lasting just sixty minutes. It has a fixed sequence and is instructed flowingly in vinyasa style. Spiritual Warrior is a rounded session with a brief warm up, sun salutation, standing positions, back bends, forward bends, turns, headstands, meditation, and relaxation. The focus of the hour is placed on combining breathing and movement and the flowing course of positions. There is less theory or yoga philosophy involved. The sequence is always the same and thus easy to learn. Even if the first few times are a bit more difficult, you will soon be able to sink into the well-planned sequence.
You exercise within your own possibilities, supported by the instruction of the teacher and his or her assists, The yoga positions (asanas) have different degrees of difficulty for beginners, the advanced, and "grown" experts.
A typical Jivamukti Open-session includes not only flowing vinyasa asana sequences and conscious breathing, but also the five columns of Jivamukti Yoga. These are shastra (texts), bhakti (dedication), ahimsa (non-violence), nada (music), and dhyana (meditation).
In this way, classical yoga teaching is taught and also sung that is relevant for life on and off the yoga mat, inspired by the "focus of the month."
There are fourteen points in every Jivamukti Open session, a creative combination of yoga positions, mediation, spiritual teaching, and relaxation assembled by the instructor.
And of course music plays an important role in the open hour. Beside chanting and singing mantras, we exercise to various forms of inspiring music.
The open class lasts 75 minutes.
The aim of the yoga practice is to consciously let the life energy flow in order to master everyday life more calmly and flexibly.
Sabine and Nicole are looking forward to meeting you!
The next dates are:
23 September 2023 - 12 - 13.15 with Nicole
08 October 2023 - 9.30 - 10.45 am with Sabine
18 October 2023 - 19 - 20.15 with Nicole
28 October 2023 - 12 - 13.15 with Nicole
05 November 2023 - 9.30 - 10.45 am with Sabine
18 November 2023 - 12 - 13.15 with Nicole
29 November 2023 - 19 - 20.15 with Nicole
03 December 2023 - 9.30 - 10.45 with Sabine
Experience the sense of profound immersion spending several minutes in a position, feel your limits and learn to let go. Direct your attention inward, observe your thoughts and be present in the here and now. Breathing, meditation, and asana combine to a very deep, opening, and healing yoga practice.
By holding the positions for a long time with aids, we work the deeper layers of the body, the fascia, the connective tissues, and the joints and tendons.
The Yogaboard is a balance board that intensifies your workout with its curved bottom. Balancing and exercising on the Yogaboard strengthens the senses of balance and takes body control to a new level. For all yoga fans and fitness enthusiasts, whether beginner or professional. We wish you a lot of fun with the new Yogaboards. Close your eyes and you are a little closer to the sea.
The yogaboard class is taught by Attila in English.
This class is ideal for the morning to balance body and mind, to gather strength for the day - refreshed and with the good feeling of having done something for yourself to go to the office or everyday life. Suitable for all levels.
This session, ideal for the lunch break, is perfect to balance out body and mind, to gather new strength, refresh and give you the good feeling of having done something for oneself before returning to the office or to everyday life.
Ali's classes are inspired by the practice of Ayurveda-a seasonal approach to Yoga. Expect creative flows with a healthy mix of sweaty strengthening and deep stretching to send you into your weekend feeling empowered and receptive.
Ali teaches for us in New York City. She is a well known international Vinyasa expert.
We offer various levels, depending on where you are in your practice or what your goals are.
In these courses, we explore various aspects of all basic elements of a fulfilling practice. You learn how to execute the asanas in a correct and healthy fashion, what your breathing can do for you, what aids you can use best, why we OM and chant other mantras, what power mudras have, the important things that yoga philosophy teaches us and much, much more.
By attending these classes, you can master a wholesome foundation for practice at our studio and at home.