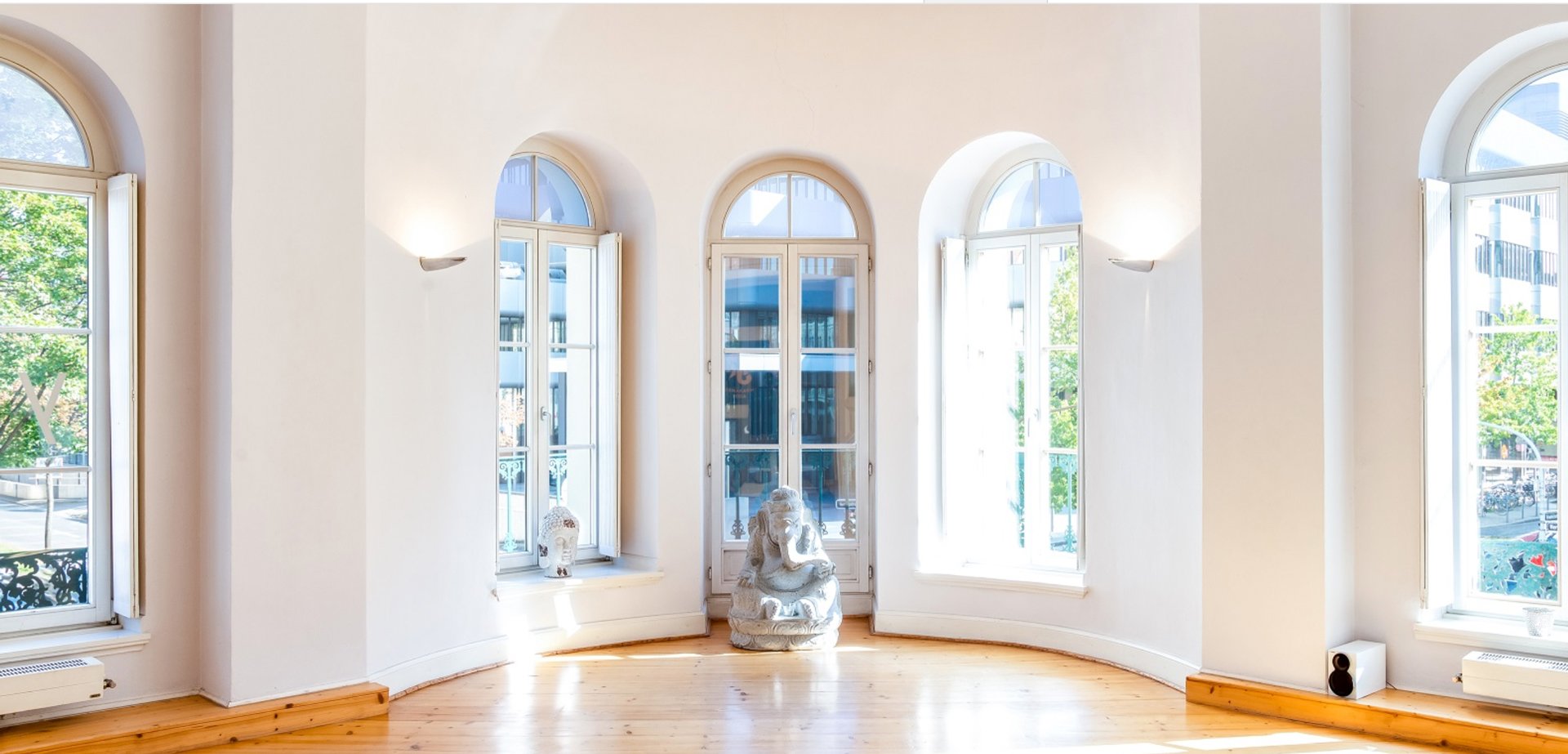 About us
Karmakarma
KarmaKarma is a center for healing, yoga, and training. We seek to guide you to health for the body, mind, and soul. From yoga to aura reading and yoga instructor training, our focus is placed entirely on you. The KarmaKarma Yoga-Studio is a place of well-being that will strengthen your energy, power, and vitality.
Our emphasis is placed on vinyasa yoga, a flowing, dynamic style of yoga that empowers you physically and mentally and at the same time gently relaxes. In addition to vinyasa yoga, we also offer yin yoga, to provide your body and your spirit with the necessary deceleration and stretches you down to the deep layers of tissue and fasciae.
In addition, we pamper and strengthen you with kundalini yoga, kunvinyi yoga, core training, personal training, stress prevention, meditation, company yoga, yoga classes in English, various workshops, yoga and kitesurfing travel packages and yoga instructor training.
Yoga makes you happy, relaxes you, strengthens your back, makes your physically and mentally more flexible, gives you peace, lets you sleep better, makes you more self-confident and balanced. Charge your karma: we make your body stronger and your mind clearer and more supple.
New with us
We are looking forward to your first visit with us. You decide spontaneously when you want to start with us and simply come to your first lesson. Pre-registration is required.
If you are a yoga beginner or have had a long yoga break, we recommend our Vinyasa Beginner Class and our Level 1 Vinyasa classes as well as our Yin Yoga classes, which are suitable for all levels. If you are an advanced yogi*ni, all our classes are suitable for you, from Level 1 to Level 3.
We recommend that you arrive 15 minutes before your first class so we can show you around. We have all the yoga equipment for you here (mat, blocks etc.). Please bring comfortable sportswear. Yoga is practised barefoot.
Our course principle is open, which means that you decide every day and week when you want to come and do not have to commit to a fixed day or time.
We always have delicious tea and water ready for you - so before and after class you can make yourself comfortable here or browse a little in our small yoga shop for yoga fashion, accessories and gifts.
We recommend that you do not eat anything heavy for about 1 hour before the yoga class.
You can find us at Herzogstraße 10a in Friedrichstadt (corner of Friedrichstraße).
What can yoga do?
Yoga is your path to yourself
Physically: The yoga exercises in combination with the breath have a positive effect on all body systems (for example, skeleton, breathing, blood circulation, lymph and nerves). Thus the organ functions of the heart, lungs, liver, spleen, intestines and glands are optimised with continuous practice and at the same time the joints, muscles, tendons are strengthened. In addition, balance and flexibility are improved.
Mental: Vinyasa, Yin, Kundalini and Kunvinyi Yoga enhance your concentration, awareness and presence. Your self-confidence, discipline, determination, endurance and patience are strengthened. These qualities help against stress, depression, anxiety and other mental challenges.
Spiritual: A strong, healthy body and a relaxed mind make us ready for new experiences and changes in life. Originally, Hatha Yoga was a tool for body control to better work with the mind. This expansion of consciousness paves the way to spiritual freedom, self-knowledge and self-realisation.
We recommend a regular yoga practice. It is optimal to practise yoga 2-3 times a week. Then the body and mind can optimally store the strength and relaxation from the yoga classes and transfer it to everyday life. Then yoga becomes a wonderful state of joy and happiness!
It is recommended for beginners to take a personal training to start or after a few group classes. Here we can put together your personal exercises for you to do at home and tailor the practice even more closely to your individual needs (stress prevention, strengthening the spine, building strength, relaxation, etc.).
How? What? Where?
Can I practise yoga if I am very clumsy or unathletic?
This is a common misconception that prevents many people from attending yoga classes. There are no prerequisites for yoga practice - whether you have old injuries, are overweight, eat meat, smoke or think you have little self-discipline, for example.
We stretch and strengthen the whole body and especially the spine. The only thing that matters is to try attentively and honestly. Then the effect of the exercises will be felt: flexibility will improve, the figure will slim and it will be easier to give up unhealthy behaviours.
What are the effects of yoga?
The countless effects are comprehensive and at the same time individual. The yoga classes address all body systems, organs, every body cell, from the bones to the skin. At the same time, stress is reduced, strength, flexibility, balance and concentration are promoted. Regular practice (at least 2x a week) can also positively change symptoms of chronic illnesses, such as arthritis, disturbed glandular functions, respiratory problems, etc.
It works for back pain, old sports injuries, poor posture, promotes stress reduction and correct breathing.
What do I need to bring to my first yoga class and how do I need to prepare?
Yoga is done barefoot and in comfortable clothing such as jogging pants or leggings, a shirt or tank top. Feel free to bring a cosy jumper and socks for the final relaxation. We have all the yoga equipment such as mats, blocks etc. in our rooms for you. You do not need to bring any of this with you.
It is best if you do not eat anything heavy 1-2 hours before the yoga class.
What if I have too high or too low blood pressure?
Yoga balances both conditions in the short term and, with regular practice, also in the long term. If the heat causes dizziness, simply take a break and only resume when the pulse has normalised.
The systematic activation of the organs through stretching and compression, in this case especially the kidneys, balances the blood pressure.
What if I had a spinal, knee or shoulder injury?
It is important to only go as far into the positions as feels good. At first it can be difficult to get into a position. If you follow the instructions exactly and can only do the exercises to one percent - but correctly and precisely - you will get the full benefit.
With patience and regular practice, such injuries will gradually change for the better.
What is important to you as karmakarma?
If the class has not yet started in the yoga room, please be quiet so as not to disturb the others. Enter the room quietly and find a seat. Please unroll your yoga mat quietly and do not drop it on the floor. Please do not use mobile phones in the yoga room.
Let inner peace also come from outer order and do not take anything into the yoga room except your mat.
If someone is looking for a place for their mat, please be so kind as to move a little.
be a yogi, be on time: The time we indicate in the class schedule means that we start on the mat and do not come into the room first. Please arrive 15-20 minutes before class starts. After you have checked in at reception, this gives you enough time to arrive, change, have a tea and unroll your mat. If you arrive just before class starts, you will still be under pressure, which will make it difficult for you to switch off. Also, arriving late not only stresses you out, but also the other yogis in class and the team.
We always close our studio door 5 minutes after the class starts.